Love is in the blogosphere as bloggers celebrate the love month with this LOVE MEME. Wanna thanks MPG, Monica and Metz for sharing me the love and now is my time to share this love to others. Gotcha bloggers!
1) Once you're tagged, install the corner banner at your blog as a third party html code. (The corner banner need to stay at your blog for at least 2 weeks).
2) Post about this meme,
Valentine's Love
.
3) Add your blog/s with link/s to the Valentine's Lovers list and leave a comment at this post
HERE
.
3) Tag all your special friends.
4) Please remember to update your list regularly so that you would not miss out anyone in your Valentine's Lovers list.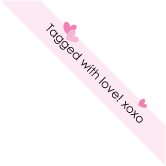 Valentine's Lovers: